COR JESU CARMELITE YOUTH MINISTRY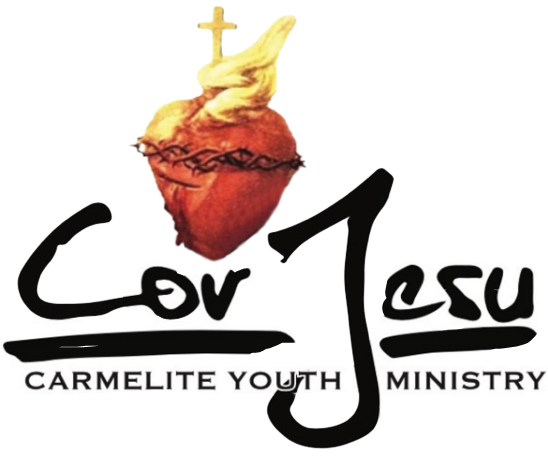 REGISTER for Cor Jesu! Click HERE to download the form.
---
WHAT IS COR JESU ALL ABOUT?
Cor Jesu is a program which ministers to both our Middle School and High School students. It includes a monthly service ministry (to the homeless in Skid Row, praying in front of an abortion facility, etc.).  See the calendar at the top of this page for all the upcoming dates.
FEE: A fee of $20 per youth/child covers one year of pizza socials, etc.  (a maximum fee of $40 will be charged per any family with two or more youth/children registered).
 HIGHLIGHTS & CHANGES to the coming year's program
1. More Social / Games
2.  Marian Procession on our Kick Off
3. "Lead Teams" of High School Teens (Skits, Testimonial, Night Prayer)
4.  Friar & Sister to present "Carmelite Saints"
5.  +"Cenacles" – youth of the same age and gender meet with a mentor (monthly prayer/virtue Commitments)
+"Cenacle" refers to the gathering of Mary, the Apostles and disciples awaiting the Holy Spirit at Pentecost.)  The Parent Cenacle will reflect on the coming Sunday's Gospel.
6.  "VIRTUES IN PRACTICE" for children three years through Fifth Grade (Program by the Nashville Dominican Sisters, led by Maria Alejandra, Christine Pleuss, and Victoria Limon) – For more information, see https://www.nashvilledominican.org/apostolate/evangelization-and-catechesis/virtues-in-practice/
Virtues in Practice – Nashville Dominicans: Virtues in Practice is a program for children in grades Pre-Kindergarten through Eighth to grow closer to Jesus by imitating His life and virtues. It is set up in such a way that the whole school will study the same virtue each month, to provide a whole-school- (and at home, whole-family-) focus.
USUAL SCHEDULE:   
6:15 p.m.  ~  PIZZA SOCIAL 
            * Hall, outside tables, basketball court, ping pong 
            * TIME CHANGE ~ updated 
6:45 p.m.  ~  HIGH SCHOOL (9th-12th) and MIDDLE SCHOOL (6th-8th) 
            * Intro Skit, Mixer-Fun, Friar/Sister present Carmelite Saint, testimonials 
            * Cenacles with mentors = Gospel inspirations, deeper virtue & prayer, commitments
 8:15 p.m.  ~  HOLY HOUR & CONFESSIONS (helping youth and families encounter Jesus. All are welcome! Includes traditional Benediction, chants, soft praise music, Gospel Reflection, Compline
FOR MORE INFORMATION, email CorJesuStCAlhambra@gmail.com.